Looking for Senior Consultants to Directors out of the BIG 4, large 2nd tier CPA firms and large consulting firms, travel up to 50%, 20+ offices around the country.
Will look at H1B candidates that have at least 3 years left on the visa, will also look at TN & E3 visas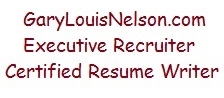 Internal Audit & Financial Advisory
IA Co-Sourcing
IA Outsourcing
IT Audit, Quality Assurance Reviews
Data Analytics/Continuous Auditing
Financial Controls & SOX Compliance
Fraud Risk Management
Client is a driven organization, enabling rapid growth of their people.
Opportunities exist to be involved in company initiatives, marketing/selling and client projects earlier than what you may get at similar levels in other companies.
Client employees have the opportunity to contribute to the success of the leading provider of completely independent internal audit and business and technology risk consulting services.
Client employees can help shape the culture of the company as we continue to grow and expand our services.
Deep expertise
o Client provides the opportunity to develop deep experience in business or technology risk products. We provide customized training programs and allow our people to become 'experts'.
Contact me for details.
Email Resume: Gary@GaryLouisNelson.com
More  Opportunities:
http://www.garylouisnelson.com/category/job-postings/